Administrative Staff
Krissy and Raisa
Our staff will help coordinate patients' treatment and insurance benefits. they strive to provide the best customer care experience.
Dental Assistants
Our dental assistants are highly trained to assist the doctors and the patients to accomplish the best care possible while making sure the patient is comfortable and well attended to.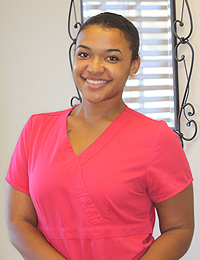 Registered Dental Hygenist
Alexis Ajetomobi
After working as a dental assistant for three years, Alexis received her degree from the dental hygiene program at Bristol Community College in 2013. She is passionate about caring for and building relationships with her patients. Alexis also has a heart for community service. She has volunteered her time providing oral hygiene instruction to people of all ages and demographics at Rhode Island Mission of Mercy free dental clinic, Boston Special Olympics Special Smiles program, and even to school children in Nigeria! In addition to holding a dental hygiene license, Alexis is certified in local anesthesia administration and CPR. She is constantly expanding her dental knowledge through continuing education courses, and intends to complete her master's degree in Public Health to further serve the community.